It's International Reggae Day (IRD)!
Reggae music fans across the globe are getting ready to honor and celebrate the authentic foundation and legacy of this influential Jamaican music genre. IRD is a 24-hour annual global festival held on July 1 in Kingston, Jamaica where artists, locals and foreigners unite to amplify the unique creativity of Reggae music and the powerful moving facets of Rastafarian culture. 
2021 'IReggaeDay' Celebration Theme
Each year, IRD features new creative contributions from non-stop music, dancing, food and drink to art exhibits, fashion shows, award ceremonies and product launches. There are many ways to participate and get involved through both in-person and media platforms. As the world continues to battle the impact of the COVID-19 pandemic, these year's virtual IRD event theme is the 1Love Rally.  
An excerpt from the "1Love" campaign page: 
"1Love" – this is the single most central message of Reggae music. Reggae music is synonymous around the world with 'One Love'. A principle and affirmation first articulated by Jamaican national hero Marcus Garvey, contextualized by Rastafarian philosophy and later popularized by Bob Marley and Reggae music. This year's 1Love Rally campaign celebrates the many facets of spiritual and romantic love amplified through Reggae music – love for Self, Family, Community, Country, Culture and our Planet." 
On JulyOne, let us Unite, Inspire and Uplift the world with 1Love. For more information on how to get involved virtually or learn more about the genre of Reggae, visit www.ireggaeday.com. 
History of International Reggae Day
If you think reggae is all about ganja, dreads, and shottas, think again. To many, the reggae genre is an uplifting and spiritual style of music instilled with deep meaning, identity and messages of unity and Black empowerment. 
The historical background of this cultural event is not to go unnoticed. Introduced as an annual festival in 1994, Andrea Davis of Jamaica Arts Holdings founded IRD after hearing an inspiring speech made by famed South African leader Winnie Mandela during her visit to Kingston in 1991. The goal of this grassroots cultural celebration is to highlight the impact of Jamaica, Reggae and Rastafari on global pop culture; and to promote support for music and arts education in Jamaica. 
In honor of celebrating Jamaica's worldwide influence of music and creativity, we want to recognize and share with you some of the top admired and respected reggae artists in history. This list only breaks the surface of artists that had an influential impact, so we encourage you to take the opportunity to research more about the history and impact of reggae music and Rasta culture. 
For more depth information in the history of International Reggae Day
click here
. 
Iconic Reggae Artists and Albums to Hear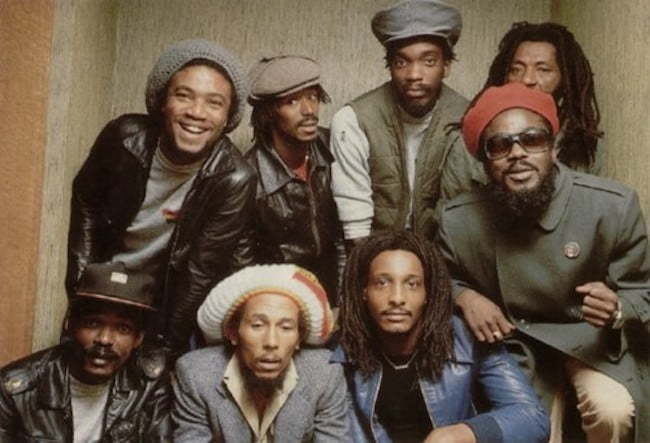 Bob Marley (& The Wailers) 
Amongst the most widely recognized Jamaican songwriters and performers in the history of reggae, Bob Marley (1945-1981) was a singer, guitarist, activist and visual symbol of the reggae genre movement. His distinctive and poetic music style infused with deep themes of love, peace and equality for all races made him a leading face in helping the Rastafari movement globalize, bringing the world closer together song by song. Marley wasn't just a musical inspiration; his passion for social activism impacted Jamaica on a deeper level by encouraging and inspiring political change and setting forth much needed conversation both within the nation and around the globe. His desire for unity and achieving peace through one love motivated great masses toward learning to appreciate Jamaican culture and roots. One of his most memorable social activist success stories was when his emotive lyrics led two opposing Jamaican parties to embrace in front of the audience at the "One Love Peace Concert" in 1978. His music and lifestyle became a vision of both progress and hope in Jamaica, as he continued to find his way into the hearts of new fans across the world. 
Marley received many rewards and honors during his career, including the Peace Medal of the Third World from the United Nations, Grammy Lifetime Achievement Award, first reggae album inducted into the Grammy Hall of Fame, and a legendary spot in the Rock and Roll Hall of Fame. In addition, a statue of Marley stands in Kingston, Jamaica in honor of his memory and incredible legacy. On top of his successful solo career, Bob Marley initiated the Jamaican reggae group Bob Marley and the Wailers (1963-1974) as the song writer and lead singer, alongside The Wailers vocal group with Peter Tosh and Bunny Wailer, and the I Threes backup female vocalists. The band, which has sold over 75 million records worldwide and achieved four Hall of Fame Grammy Awards. Marley's best known for songs including One Love, I Shot The Sheriff, Natural Mystic. Stir It Up, No Woman No Cry, Exodus and Get Up Stand Up. 
Bob Marley continues to find his way into the collections of vinyl enthusiasts with studio albums including Confrontation, Uprising, Survival, Kaya, Exodus, Rastaman Vibration, Natty Dread, Burnin', Catch a Fire, The Best of the Wailers, Soul Revolution, Soul Rebels, The Wailing Wailers. 
 
Peter Tosh (1944-1987) 
Alongside Bob Marley, Tosh was also one of the founding members of the legendary reggae band The Wailers. This band single-handedly transformed pop culture and contributed to the development of Jamaica's reggae music culture. Tosh was a very passionate philanthropic with a strong central focus on music activism themed around equal rights and justice. Although his songwriting and performances revolved around humanitarian causes and cannabis legalization, he was not the stereotypical stoner people made him out to be. Tosh understood his role and passion for political liberation and harmony and always made his feelings known through his articulate lyric messaging and performance. He was the first reggae artist to educate and spread awareness about the corrupt apartheid political system, more importantly encouraging others to challenge the oppression and realize their value and fight for their freedoms.  
Tosh's influence on cannabis culture was so strong, April 20 has been named Peter Tosh Day in Jamaica. Since his passing in 1987, Tosh's legacy lives on through a cannabis company 'Peter Tosh 420' that his daughter Niambe McIntosh started in his honor. A portion of every sale goes through Tosh's family-run foundation that helps fund humanitarian causes including social justice equal rights projects. 
Tosh's popular albums include 'Legalize It', 'Equal Rights', 'Bush Doctor', 'Mystic Man', Wanted Dread & Alive', 'Mama Africa', and many more.
Bunny Wailer (1947-2021) 
Bunny Wailers, songwriter and original member of The Wailers, was profoundly known as one of the top reggae artists of all time. His strong focus on Rastafarianism and black liberation led him and The Wailers to become key figures of Jamaica's "Rasta Renaissance" and development new reggae subgenres like ska, rocksteady, roots reggae and dub. Wailer was always known to push boundaries, forming his own political party showing particular interest in youth issues and legalization of marijuana. With multiple mainstream hit singles, Wailer highly influenced the foundations of reggae style with his political and spiritual messaging.
After leaving the Wailers music group in 1973, this three Grammy award-winner continued living his Rastafarian lifestyle in Jamaica while continuing to uplift Jamaica's musical renaissance. Popular albums include 'Blackheart Man', 'Protest', 'Roots Radicals Rockers Reggae', 'Rock'n'Groove', 'Hook, Line & Sinker', and many more.
Toots and the Maytals (1962-2020) 
Fredrick 'Toots' Hibbert is amongst the most pivotal names in Reggae music history. Toots co-founded the musical group 'The Maytals' in 1962 with musicians Raleigh Gordon and Jerry Mathias (later changed to 'Toots and the Maytals') which became known as one of the best Reggae vocalist groups in Jamaica, ultimately credited for establishing fundamental dynamics of the reggae genre.  
Beyond his admired soulful vocal style, Toots was an impeccable performer. The same way Elvis Presley is the proclaimed legend of rock 'n' roll, Toots holds an esteemed status for popularizing reggae music globally. In fact, Toots and the Maytals 1968 single "Do the Reggay" was the first song to put a name to this developing genre in the title, in turn ultimately giving the genre its name. 
In an interview with Vogue in 2020, the question arose "Now, the story about you inventing the word "reggae"—true, or not true?" 
"It's a true story: I am the man who coined the word "reggae." The music was in Jamaica playing, but no one knew really what to call it. I took the word from a slang word we have in Jamaica called "streggae"—that was just a nickname for people who don't dress properly, people who don't look good—girls or boys—we say, "Aaaaye. . . that's streggae!" So me and Raleigh Gordon and Jerry Mathias were recording songs one day, and I said "Let's do the reggay." We never planned it, but all these years later, I'm proud that I'm still making my living with reggae." – Toots Hibbert  
Currently, the music group holds the record for most No1 hits in Jamaica – the only band to surpass Bob Marley. Toots went on to achieve a Grammy Award for Reggae Album of the Year in 2005, and named one of the 100 Greatest Singers by Rolling Stone in 2010. His music continues to be covered and adapted by many artists, most prominently his first international reggae hit song "54-46 Was My Number". Popular albums include 'Funky Kingston', 'Sweet and Dandy', 'In The Dark', 'Never Grow Old', Monkey Man', 'True Love', Reggae Got Soul' and many more.
 Jimmy Cliff (1948-Present) 
Though not as highly recognized with the same fame as Bob Marley, Jimmy Cliff played a key role in putting Jamaican reggae entertainment on the map and ultimately paved the way for reggae artists to spread their messages around the world. Passionate about taking his Jamaican song-writing to the next level, James Chambers, later changed to Jimmy Cliff, left his hometown in 1962 at the young age of 14 to move to Kingston, Jamaica where he began cutting tracks for producers to consider. After two unsuccessful singles, he was introduced to producer Leslie Kong, where he recorded his first hit single "Hurricane Hattie". After recording more hit singles, Cliff was scouted to relocate to Britain where he shifted focus on progressive rock music in order to take advantage of his international fame and continue developing his reputation globally.  
His unpredictable plan was a success; in 1968 Cliff released his debut album "Hard Road" and win the International Song Festival with his smash hit song "Waterfall". He later soared to the top of music charts in Britain and USA with "Wonderful World, Beautiful People" and "Vietnam". After the death of his lifelong producer, Leslie Kong, in 1971, Cliff had to fend for himself and honored the last project Kong had in line; to produce the soundtrack to the 1972 movie "The Harder They Come". Cliff ended up also playing the lead role for the film which upon release became an underground classic around the world, altering the focus of reggae music and African culture to the world. 
In lieu of his success, Cliff was the second reggae artist to win an American Grammy Award and 2nd reggae artist, after Bob Marley, to be inducted into the Rock and Roll hall of Fame in 2010. Some of his famous anthems you may have heard include "I Can See Clearly Now," "Wonderful World, Beautiful People," "You Can Get It If You Really Want," "The Harder They Come," and many more. 
Burning Spear (1948-Present) 
Winston Rodney, the may known as Burning Spear, is widely recognized and respected for emerging the spiritually-focused reggae subgenre known as roots. Roots reggae is lyrically themed around Rasta freedom and resistance to government oppression. His music and life is widely influenced by Marcus Garvey, who's political perspectives and spirituality toward an unjust system.. His 1974 his album "Marcus Garvey" included multiple memorable hit tracks that encouraged generations of Rastafari roots across the globe to discover and emanate their culture. His other popular albums include 'Man in the Hills', 'Living Dub', 'Mek We Dweet', 'Calling Rastafari', 'Freeman', Jah Kingdom', and more.
There are many additional reggae inspirations to be noted, including but limited to Desmond Dekker, Lee "Scratch" Perry, Marcus Garvey, Black Uhuru, Gregory Isaacs, Culture, Funky Kingston, Tanya Stephens, Luciano, UB40 and many more. Many reggae artists have made a notable impact on the genre and culture of Jamaican music, and we encourage you to look deeper into the history and motive behind reggae. 
As Bob Marley sang "One love, One heart, Let's get together and a-feel all right." Celebrate International Reggae Day with our Fluance Fan community by checking out our Fluance Spotify Reggae Hits playlist to view all the honorable reggae songs and artists to listen to.